Backup Solutions

Online server backup
Don't have a back up?
STOP!
Don't leave it to chance!
A cost effective storage solution that is reliable, secure and automatic.
The Price of Downtime: What Will an Hour, a Day or a Week Cost Your Business? It has been estimated that the average company experiences a total of 87 unscheduled hours of downtime per year. Although people often think in terms of natural disasters, the fact is that human error can account for a staggering 70 % of outages. Regardless of the cause, most businesses don't know the price of a single hour of downtime; consequently, business continuity and disaster recovery plans often take a back seat to other projects that are deemed to have higher priority and have more tangible financial impact. But make no mistake, the impact of downtime and data loss is felt in a variety of ways, and may be immediate or have long-term repercussions.

Disaster Recovery - In today's times, threats to your company's critical business data are ever present from hacker attacks, computer viruses, power failures, system administration errors, natural disasters and terrorist attacks. But the ability of an organization to recover from a disaster is directly related to its degree of disaster recovery planning before the disaster.
Contact Us
Here are just some of the
benefits:
Fully Managed
Secure Storage
Compliant
Automated
Scalable
Disaster Recovery
Security
24/7 Monitoring
Reduced downtime
Fast recovery
Offsite

Data Protection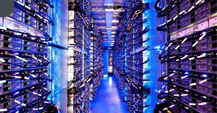 Blueberry's Offsite Backup Solutions offer you a fully managed service and store all your backups in our secure data centre automatically without any human intervention.